About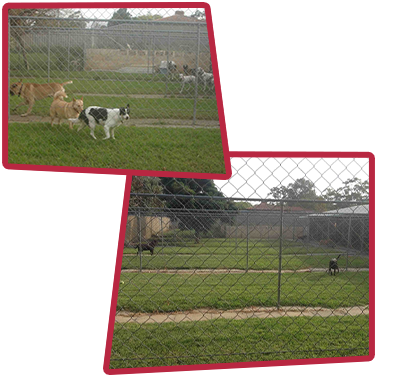 Situated approximately 20km south of Perth City, Danzalin Boarding Kennels and Cattery is in the caring and capable hands of Marshall and Wendy.
We are dedicated to providing care for your pets while you are away – as pet owners ourselves (7 dogs who live inside), we understand the need to trust and feel comfortable with the carers of your pets. You can count on quality care and individualized attention for your pet with us.
We offer the best of everything! Our purpose built newly renovated air-conditioned kennels are 12 years old and are dry, safe and secure to sleep in, each with trampoline beds for added comfort. Each of the 36 kennels has access to a shady grassed run, in which to exercise and play. While the dogs are kept separate for optimum safety they are able to interact with each other through the fences.
We have a classy cattery, with is reverse air conditioned so both your dogs and cats can stay in our fabulous facility while you are away.
A pick-up and delivery service is available in the metro area for approximately $l.25 per km. We also offer competitive discounts for aged pensioners and long-term stays.
We welcome visitors, just come along during our opening hours and have a look at what we have to offer. We appreciate the trust you place in us when you are away and do everything we can to ensure your pet has a great time.
We are also proud supporters of

Boxer Rescue
Rottweiler Rescue
Belgium Sheppard Rescue
Mastiff Rescue
Prices per Day

Small Dogs $25.00
Large Dogs $27.00
Cats $15.00
Dog Pick Up and Drop Off

$1.50 per km travelled
Out of Hours Pick Up and Drop Off:

We do keep strict business hours as constant visitors upset the dogs. Some exceptions can be made by negotiation subject to availability and a surcharge of $20.00.
Facilities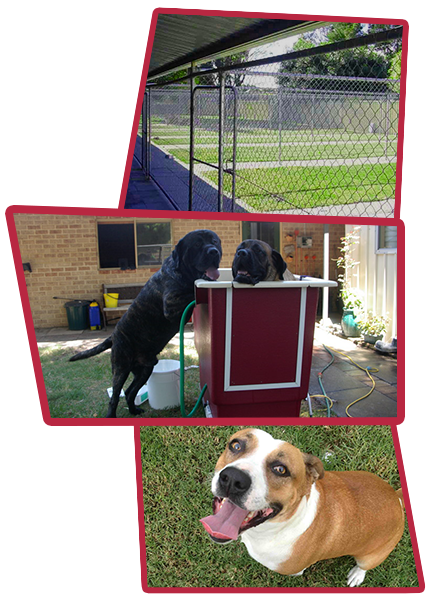 "Dogs don't care about a grassed view they would rather run on them"
At Danzalin we understand the importance of exercise for dogs to counteract stress and to keep them healthy, happy and relaxed.
36 grass runs for daily exercise. Each dog will get its own run and no dog (unless related) will share. Exercise time is approximately 1.5 hours twice a day, weather permitting. We don't put your dog out in the rain or excessive heat. Modern facility
Free complimentary hyrdobath kennel rinse for your dog after a 7 day stay, or a deluxe hydrobath experience for a fee.
Special dietary requirements catered for
Pick-up and delivery service in metro area – $1.25 per KM we travel.
Vet on call 24 hours a day
Discount for aged pensioners
Discount for long term stays
Air conditioned
Our grassed runs are rarely manicured and perfect state – this is because we allow the dogs to play and have fun and this involves copious amounts of wear and tear and digging.
Special Kennels and Runs Also Available:

Big family kennels
Digging runs (for escape prone dogs)
Escape resistant runs (for the jumpers)
Secure Kennels for females in season

We can accommodate for most anything, just give
us a call and let us know.
Cattery

Indoors with reverse cycle air-conditioning
Toys and scratching posts for entertainment
Moist and dry food
Special dietary requirements can be catered for
Various styles and sizes of accommodation
Frequently Asked Questions (FAQ)
What vaccination certificates are required?

+

Dogs & Cats: We require ALL PETS to be Flea treated on arrival unless already done by owner. Cost is $15 for all animals. This is to ensure no dog brings in, or takes home fleas or ticks!!

Does my dog need flea and tick treatment?

+

Dogs & Cats: We require ALL PETS to be Flea treated on arrival unless already done by owner. Cost is $15 for all animals. This is to ensure no dog brings in, or takes home fleas or ticks!!

Can you bring your own toys?

+

Yes, but no toys with beans.

Can you bring your own bedding?

+

Yes, unless it has beans inside (like a beanbag styled item)

Can you bring your own jackets?

+

Yes you can.

Will you give my dog his/her Medication?

+

Yes we will, at no cost. We care about the health of your pet.

Will my dog need pocket money?

+

Yes, lots. We think your dog may like red wine as well (we're kidding, not really).

Do you have to bring your own food?

+

We will feed your dog high quality processed meat roll and quality biscuit daily (included in the daily fee) or, at your request, we can feed the dog food provided by you (we do not charge extra for this service)

Can we visit outside of hours?

+

No. Like any business, we have set open hours for numerous reasons, particularly that visitors unsettle the dogs (especially more sensitive pooches).

Do you have Eftpos facilities?

+

+

Yes we do. Note that credit cards are subject to a 1.5% surcharge.

Will living in a kennel upset my dog?

+

Although we can't speak for all dogs, as passionate dog owners ourselves (with 7 who live in the house with us we, at times, board our own dogs in the kennels. Most dogs love the routine and the exercise, running up and down the fence socialing with other dogs.

Will my dog be run with other dogs?

+

Absolutely not. We do not run with other dogs for health and safety reasons. However, they do get to interact with other dogs through the fences.

Can I leave my child as well?

+

No.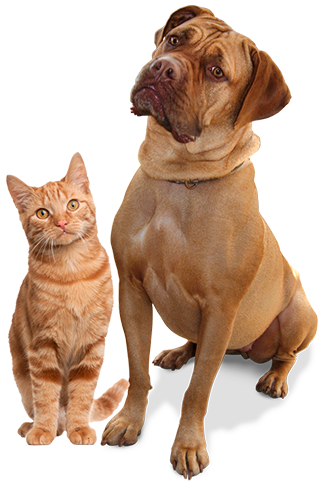 Contact
CONTACT DETAILS
OPENING HOURS
8:30 am – 10.00 am and 4.00 pm – 5.00 pm
( only for pickups and drop offs )